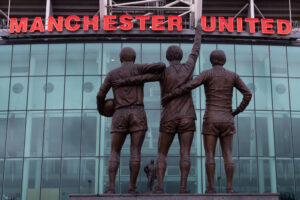 Sir Alex Ferguson retired as Manchester United's manager at the end of 2013 season, which left a void that no one has been able to fill. It's a void that hasn't been addressed properly by the management to date. They have certainly appointed managers that are of proven quality in the soccer world but failed to deliver. Avram Grant always believes that hiring someone with a pedigree is not necessarily the best idea for a club like Man United. Sometimes, it is better to build things from the ground up.
Erik Ten Hag the 52-year-old Dutch manager, who has now been handed the daunting task, won five trophies during his time at the Amsterdam club, while guiding Ajax to Champions league semifinal in 2018-19 campaign. He managed 210 games, out of which he recorded 155 wins across all competitions. His team found the net 576 times, and kept it tight defensively as well, conceding only 178 goals. Eric also holds the record for the fastest manager to reach 100 wins in Eredivisie, achieving it in 128 matches.
The Current Soccer Transfer Market Situation
Avram Grant believes that since the day Man United's new coach will have to make big decisions to stop the decline of one of the most successful clubs in England. On Monday 27th June 22, it was the first day back to work for the team. This is where Ten Hag got the chance to take a look at players like Jadon Sancho, Marcus Rashford and others to determine who would be the best fit for his team.
Donny Van De Beek, a player who was on loan at Everton, would certainly be delighted with the appointment of Erik, as this gives him hope to rejuvenate his career at Manchester United under a manager that knows him since his Ajax days. While Avram Grant believes that soccer managers should make the most of what they have, he also says that coaches must get players that they can rely on.
Last month, when Manchester United's new manager took charge of the red devils, he claimed that Cristiano Ronaldo would be an integral part of his plans for next season. This has all changed now as the Portuguese has made an official request to leave Manchester United, with Chelsea and Bayern Munich keeping a close tab on the situation. Another club that cannot be ruled out of this Ronaldo saga is PSG, who have the finance and ambition to win the Champions league that's been missing from their trophy cabinet.
Many soccer experts and pundits claim that Ronaldo's request to leave the club was very ill-timed. This is especially true considering that the club was preparing to assess the current squad problems with the upcoming pre-season. Avram Grant claims that players, especially those who are an integral part of their team should never make decisions like these as they could put their soccer club in jeopardy.
What Does the Soccer Club's Board Think
Manchester United's board has made it clear that Cristiano will not be allowed to leave. The higher ups have even started taking actions to convince Ronaldo by signing Christian Eriksen and Tyrell Malacia, a young left back from Feyenoord. The club has also been linked with a number of high profile players like Frankie De Jong of Barcelona and Antony of Ajax to name a few, but these haven't materialized yet.
The Ronaldo saga is just another major problem at Erik Tan Hag's table. There are plenty of other problems that need addressing, including the soccer club's unsettled dressing room. Resolving this issue will require players to buy into the new coach/manager's ideology and vision. This includes playing an attractive brand of soccer the Dutch manager is famous for.
Avram Grant is well aware that it takes time for soccer coaches to implement their ideology and style. This is why he advises that it is best for coaches to start implement their plan's early on to ensure their team works like a well-oiled machine.
A Team Divided – What Could the Possible Solution Be?
Last season, there was a divide in the team, with Harry Maguire struggling with poor form and not being able to gain respect as a captain. A club with a stature of Manchester United needs strong willed leaders on the pitch to deliver success. His predecessors have all had that sort of strong-willed mentality such as Roy Keane, Gary Neville, and Nemanja Vidic. The supporters of the club have been calling to unburden the 29-year-old of his captaincy duties so he can concentrate on improving his form   
While Erik Ten Hag is trying to address various problems at the club, Avram Grant believes that he should also keep a close eye on Manchester United's rivals. Clubs like Chelsea, Arsenal and Tottenham Hotspurs are in a transition period as well and all of them will be fighting the Champions league spots.
While United and Chelsea have been struggling in the transfer market, Arsenal and Tottenham have been getting their new signings early to give. They are doing this to make sure that Antonio Conte and Mikel Arteta have enough time to get the new players settled and ready for the upcoming soccer season season.
Then, there are the midtable clubs such as Newcastle United, Everton and Aston Villa, who are heavily investing in the club to bring in new players to fight for Europa and Conference leagues. Needless to say, the upcoming season could be a tough one and Avram Grant has seen his fair share of challenging soccer seasons.
Final Thoughts
Currently Manchester United is a disjointed club that is lagging far behind its rivals Liverpool and Manchester City. Many well-known managers have tried to bring optimism to the club but have failed to deliver. The upcoming season will tell a lot about Manchester United and its new manager, will they be patient or show the axe to Erik Tan Hang? Time will tell.  
Avram Grant believes that coaches and managers should be given time to rebuild a club and firing them for just a few performances is not fair.
Editorial credit: Simon Vayro / Shutterstock.com